Sometimes physical releases are manufactured in multiple versions (alternate colourways, multi-disc editions etc.). However, unless these are set up for distribution with distinct product identifiers (i.e. with separate CAT#/SKU & UPC / barcode for each option) it can often be difficult for shops to differentiate between them when ordering stock. They may not even recognise that there several buying options available. And once products are on the shelf, it can be hard for a customer to appreciate the differences between variants unless there's a visual indication on the packaging to inform their buying decision. Also, when similar products are easily confused for one another, it significantly increases the likelihood of stock levels and sales being misreported.
Setting up Release Variants
If you are producing several versions of a release, please consider the following;
Give each variant its own SKU & UPC (and make sure those identifiers are printed or stickered on the packaging)
Let your label manager know the variant description (e.g. SKU001CB is for a clear blue marbled vinyl edition)
Reference each of the variants available in the sales notes
Sticker the variants to make it clear to us & customers alike that they are different & ideally also include the format information (e.g. colourway, download card inclusion, vinyl weight, limited edition / indies-only edition etc)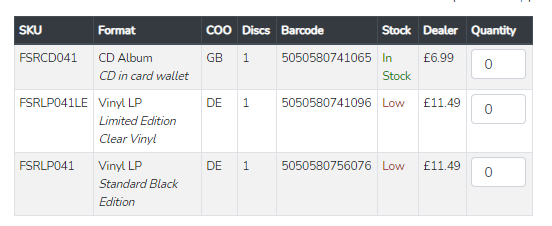 What Counts as a Variant?
The following examples are given as a guide. As always, there are grey areas and exceptions – so if you're unsure whether it's necessary to create multiple variants for your planned release, you should seek advice from your label manager.
Any item that needs to be offered at a different price to the standard version always requires a separate a variant
A blue vinyl version offered alongside a standard black edition is usually a separate variant
A version pressed at a different plant (but that's otherwise the same as the original) is not a variant
A vinyl release where initial copies include a bonus add-on (postcard, sticker etc.) does not require a separate variant