Kudos offers a system for creating instant links to your releases with zero setup required. These are designed for posting on social media and for use in marketing campaigns but have many other uses besides. We refer to these links as Smart URLs or kud.li ("cuddly") links.
The best way to link to your release is using our kud.li landing page which allows users to find your release on a service of their choice. This works simply by adding your catalogue number at the end of the kudos short domain "kud.li" – e.g. https://kud.li/fsrcd117
The landing page updates automatically depending on the status of the release. Before the release date it will offer pre-order and pre-save links (where available) and post-release it will offer visitors a wide range of direct links to your product on download and streaming services (where applicable) in addition to direct-buy links for digital and physical formats through the kudos D2C website.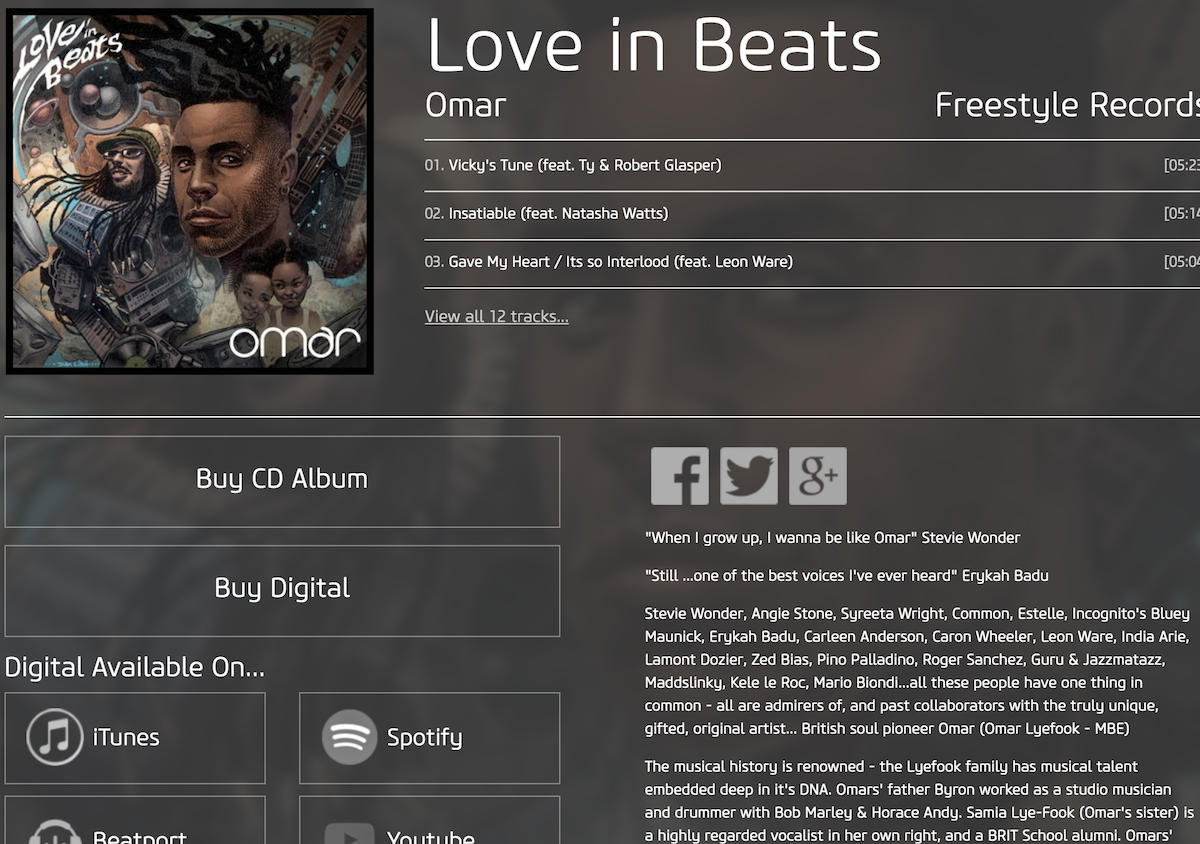 You can also use Kudos Smart URLs to create a short link to a your release on a particular store. See below for examples of how to create links to some popular services. Note that, as not all services provide a method for finding individual releases, we're not able to offer smart links to every single store but the list is growing.
To make links for you release, simply replace the catalogue number used in the examples (fsrcd117) with the catalogue number of your release.
Apple Music
e.g. https://am.kud.li/fsrcd117 or https://applemusic.kud.li/fsrcd117
Spotify / Pre-save

Note that If used before the release date, the user will be redirected to the 'Pre-Save' landing page which will give them the option to be able to 'Pre-Save' the album / release to their Spotify library. Click here for more information.
e.g. https://sp.kud.li/fsrcd117 or https://spotify.kud.li/fsrcd117
Deezer
e.g. https://dz.kud.li/fsrcd117 or https://deezer.kud.li/fsrcd117
Tidal
e.g. https://td.kud.li/fsrcd117 or https://tidal.kud.li/fsrcd117
iTunes
e.g. https://it.kud.li/fsrcd117 or https://itunes.kud.li/fsrcd117
Beatport
e.g. https://bp.kud.li/fsrcd117 or https://beatport.kud.li/fsrcd117
Juno Download
e.g. https://jn.kud.li/fsrcd117 or https://juno.kud.li/fsrcd117
Boomkat
e.g. https://bk.kud.li/fsrcd117 or https://boomkat.kud.li/fsrcd117
Traxsource
e.g. https://ts.kud.li/fsrcd117 or https://traxsource.kud.li/fsrcd117
Amazon
e.g. https://az.kud.li/fsrcd117 or https://amazon.kud.li/fsrcd117
Bandcamp
Note that this is only available to labels on the full Bandcamp distribution option as it requires your releases to have been delivered to Bandcamp via the Kudos data feed.
e.g. https://bc.kud.li/fsrcd117 or https://bandcamp.kud.li/fsrcd117
YouTube
Only available for labels with partnered YouTube channels and have had their releases delivered as pack-shot videos via the feed.
e.g. https://yt.kud.li/fsrcd117 or https://youtube.kud.li/fsrcd117
Another advantage of using our smartlinks is that wherever possible we will use affiliate links. These are special urls which generate a small "cashback" credit when a purchase is made. Kudos distributes this affiliate money to the appropriate label – so you actually get paid more for purchases that are made via the smart links.
When a service isn't able to find a direct URL automatically using their API, it will return an error and redirect the fan back to the landing page to select another. It is possible to override the URL and replace it with a direct link on the smart URL page in the portal.