In July 2018, Spotify added a playlist pitching function to their Spotify for Artists dashboard.  This provides artists and their management teams with the ability to nominate a specific track from an upcoming releases for inclusion in their followers' Release Radar weekly playlist.  Extra information such as mood and instrumentation can also be provided and this may be used by Spotify's algorithms and their editorial team to select tracks for popular playlists as well.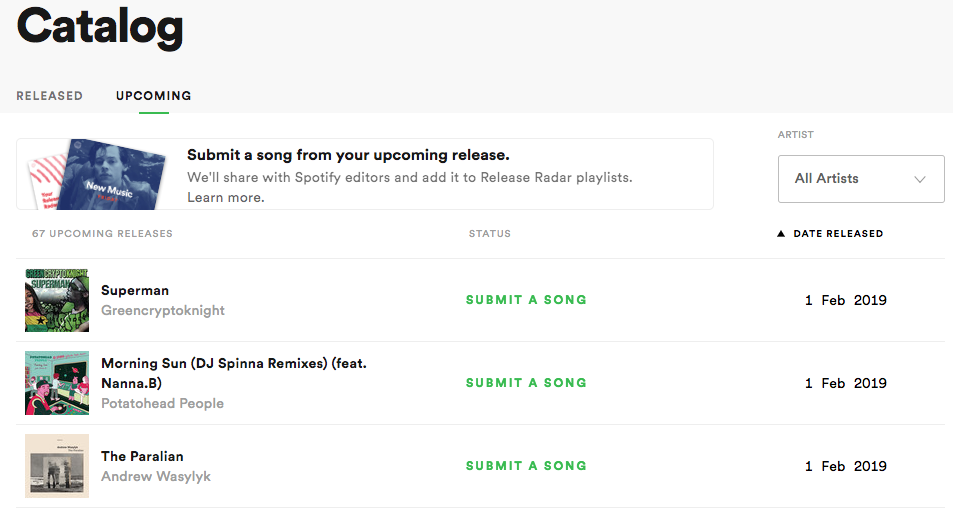 Using the Spotify Submission Tool
We advise that labels encourage all of their active artists to sign up for Spotify for Artists if they have not done so already in order to manage their Spotify presence and monitor and grow their audience.  Anyone with access to SfA is then welcome to pitch upcoming tracks but there are a few things to bear in mind:
Each artist can only have one track nominated at a time and it must be from an upcoming release.

Tracks must be pitched a minimum of 7 days before release to guarantee inclusion in their followers' Release Radar playlists.  We generally pitch at least 2-3 weeks ahead of release.

Artists teams should focus on growing follower numbers year round in order to maximise the impact of nominating new releases.  The more followers you have, the more playlists you'll be in.

It is vitally important that labels continue provide Kudos with detailed sales notes and give their label managers PR updates, radio play reports, etc. so that we can use this information to reinforce track nominations directly with our Spotify account manager, and communicate this data to other relevant digital services.
The SfA pitching tool works in tandem with the scheduling and pitching tools we have as an approved Spotify supplier.  These tools allow us to view and edit  nominations made by the artist/label as well as raising our own pitches for tracks that are not yet nominated.  This means the system doesn't rely on the artist pitching their own tracks through SfA and it enables us to coordinate the process to make sure every priority release is well presented to the editorial team.
For any queries, ideas and tips on how to grow your follower base, and for strategy and campaign advice, labels should speak to their account managers and refer to the relevant articles in our knowledgebase.